Specialized Gunmetal Flanges Manufacturer, Gunmetal Puddle Flange Suppliers.
Marcel Piping Projects Supply PVT LTD is dominant manufacturers of Gunmetal Flanges in India. The Gunmetal Flanges, which we supply, are accredited for their sturdy make. Well established name in the domain, you can count on us for presenting broad array of Gunmetal Flanges. We're able of delivering the bulk instruments of the clientele easily as we've excellent storehouse facilities. We've segregated units in the storehouse that helps us in delivering all the products totally.
We are leading Stockists and Suppliers of Gunmetal Flanges in USA, UK, Qatar, Mexico, Nigeria, Saudi Arabia, Kuwait, Iran, Kazakhstan, Bahrain, Vietnam, Indonesia, Norway, Ghana, Colombia, Azerbaijan, Libya.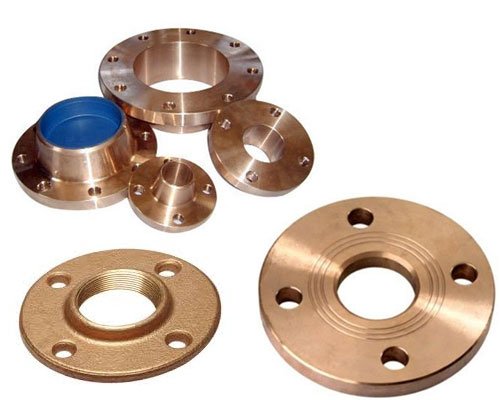 We are ISO Certified Manufacturer and Stockist of Gunmetal Flanges ANSI 150, Gunmetal Puddle Flange, Table D & Table E Gunmetal Flange, Series A & B Gunmetal Blind Flange, Gunmetal Lap Joint Flange, Gunmetal Ring Type Joint Flange, PN10 PN16 Gunmetal Orifice Flange Pressure Rating, Gunmetal Threaded Flange at Reasonable Price.
We are Leading Exporter and Supplier of Gunmetal Weld Neck Flanges, Gunmetal Class 150 Flanges Raised Face, Gunmetal Blank Flange, Gunmetal Exhaust Flange, MSS SP-44 Gunmetal Plate Flange, Gunmetal Tongue and Groove Flange, Gunmetal Slip On Flange, Gunmetal Spectacle Blind Flange Flat Face, Gunmetal Nipoflange, Weldoflange, Class 300#, 600#, 900#, 1500#, 2500# Gunmetal Flanges Dimensions.
Gunmetal Flange Standard Specifications

Gunmetal Puddle Flange Specification Chart
| | |
| --- | --- |
| Product Name | Gunmetal Flanges / Gunmetal Puddle Flange |
| Size Range | 1/2″ (15 NB) to 48″ (1200NB) |
| Class / Pressure Rating | 150#, 300#, 600#, 900#, 1500#, 2500#, PN6, PN10, PN16, PN25, PN40, PN64 etc. |
| Standards / Dimensions | ANSI/ASME B16.5, B16.47 Series A & B, B16.48, BS4504, BS 10, EN-1092, DIN, BS, GOST, MSS SP-44, ISO70051, JISB2220, BS1560-3.1, API7S-15, API7S-43, API605 |
| Flange Face Types / Connection Type | Flat Face Flange (FF), Raised Face Flange (RF), Ring Joint Flange (RTJ), Lap Joint Flange, Male and Female Flange (M&F), Large and Small Tongue-and-Groove Flange (T&G) |
| Dimensions | ANSI B16.5, ANSI B16.47 Series A & B, ASA, API-605, MSS SP44, AWWA, Custom Drawings |
| Custom Design | As per your drawing | AS, BS, ANSI, DIN, JIS | Equal and Reducing Configurations |
| Material Test Certificates (MTC) | As per EN 10204 3.2 and EN 10204 3.1, Test Certificates certifying NACE MR0175, NACE MR0103 |
| Test Certificates | 100% Radiography Test Report, EN 10204/3.1B, Raw Materials Certificate, Third Party Inspection Report, etc |
| Tests | Hydrostatic testing machine, Direct-reading Spectrograph, UI trasonic flaw detector, X-ray detector, Magnetic particle detector |
| Equipment / Machines | Press machine, Pushing Machine, Bending machine, Sand-blasting machine, electric bevelling machine, etc. |
| Coating | Anti-rust Paint, Oil Black Paint, Yellow Transparent, Zinc Plated, Cold and Hot Dip Galvanized |
| Origin | Indian / USA / Japan / West Europe / Korean |
| Applications/Usage | Offshore, Oil Field, Shipbuilding, Water System, Natural Gas, Pipe Projects, Electric Power, etc. |
| Top Export Network | USA, UK, Qatar, Mexico, Nigeria, Saudi Arabia, Kuwait, Iran, Kazakhstan, Bahrain, Vietnam, Indonesia, Norway, Ghana, Colombia, Azerbaijan, Libya. |
Gunmetal Flange Standards

Gunmetal Puddle Flange Standard Dimensions
In Stock Gunmetal Flanges Types

Gunmetal Puddle Flanges Price in India
Note: Flanges Prices are depended on Material Grades, Standards, Dimensions, Sizes, Order Quantity, etc. Prices Mentioned on website are for referance purpose only. To get market leading prices for Gunmetal Flanges contact us now.
How To Order Gunmetal Flanges?

Parameters to request estimates
Flange type (welding neck, slip-on, threaded, lap joint flange, etc)
Gunmetal Flange specification (example ASME B16.5, ASME B16.47 type A, EN 1092-1, JIS, UNI, DIN, etc.)
Nominal pipe size (NPS)
Gunmetal Flange rating (or class): flanges' rating can range from 150 to 2500 for ASME flanges, from 5k to 30k for JIS B2220 flanges and KS1503 flanges; from PN 6 to PN 100 for European and Russian-standard flanges (DIN, UNI, EN 1092-1, GOST 12820 / 12821-80); Class 600/3, 1000/3, 1600/3, 2500/3, 4000/3 for SANS/SABS flanges (South African standard for flanges)
Pipe schedule (for welding neck and socket weld flanges)
Gunmetal Flange facing type (FF; RF, RTJ): according to ASME B16.5, the raised face is the standard facing for flanges (different facings, like RTJ or flat face FF, have to be ordered specifically)
Gunmetal Flange surface finish (smooth, stock, concentric serrated, etc)
Gunmetal Flange Quantity
Gunmetal Flanges Industries and Applications

Gunmetal Puddle Flange Applications
Pumps, Valves, and vessels in manufacturing and food processing.
Pipe connections in industrial waterworks.
Heat exchangers and heating systems of all sizes.
Mining support.
Nuclear power systems.
Plumbing and mechanical systems.
Assemblies in the oil, gas, and petrochemical industries.
Fire protection systems.
Gunmetal Flange Supply and Export Network

List of Cities and Countries
| | | | |
| --- | --- | --- | --- |
| Afghanistan | Algeria | Angola | Argentina |
| Australia | Austria | Azerbaijan | Bahrain |
| Bangladesh | Belarus | Belgium | Bhutan |
| Bolivia | Brazil | Bulgaria | Canada |
| Chile | China | Colombia | Costa Rica |
| Croatia | Czech Republic | Aberdeen | Abu Dhabi |
| Ahmedabad | Ahvaz | Al Jubail | Al Khobar |
| Algiers | Ankara | Atyrau | Bangkok |
| Bengaluru | Bhopal | Bogota | Brisbane |
| Busan | Cairo | Calgary | Caracas |
| Chandigarh | Chennai | Chiyoda | Coimbatore |
| Colombo | Courbevoie | | |
| | | | |
| --- | --- | --- | --- |
| Denmark | Ecuador | Egypt | Estonia |
| Finland | France | Gabon | Ghana |
| Greece | Hong Kong | Hungary | India |
| Indonesia | Iran | Iraq | Israel |
| Italy | Japan | Jordan | Dallas |
| Dammam | Doha | Dubai | Edmonton |
| Ernakulam | Faridabad | Geoje-si | Gimhae-si |
| Granada | Gurgaon | Hanoi | Haryana |
| Ho Chi Minh City | Hong Kong | Houston | Howrah |
| Hyderabad | Indore | Istanbul | Jakarta |
| Jeddah | | | |
| | | | |
| --- | --- | --- | --- |
| Kazakhstan | Kenya | Kuwait | Lebanon |
| Libya | Lithuania | Malaysia | Mexico |
| Mongolia | Morocco | Netherlands | New Zealand |
| Nigeria | Norway | Oman | Pakistan |
| Peru | Philippines | Poland | Portugal |
| Qatar | Romania | Russia | Karachi |
| Kolkata | Kuala Lumpur | Kuwait City | La Victoria |
| Lagos | Lahore | London | Los Angeles |
| Ludhiana | Madrid | Manama | Melbourne |
| Mexico City | Milan | Montreal | Moscow |
| Mumbai | Muscat | Navi Mumbai | New Delhi |
| New York | Noida | Perth | Petaling Jaya |
| Pimpri-Chinchwad | Port-of-Spain | Pune | Rajkot |
| Rio de Janeiro | Riyadh | | |
| | | | |
| --- | --- | --- | --- |
| Saudi Arabia | Serbia | Singapore | Slovakia |
| South Africa | South Korea | Spain | Sri Lanka |
| Sweden | Switzerland | Taiwan | Thailand |
| Trinidad & Tobago | Tunisia | Turkey | Ukraine |
| United Arab Emirates (UAE) | United Kingdom (UK) | United States (US) | Venezuela |
| Vietnam | Yemen | Santiago | Secunderabad |
| Seoul | Sharjah | Singapore | Surat |
| Sydney | Tehran | Thane | Thiruvananthapuram |
| Toronto | Ulsan | Vadodara | Visakhapatnam |
| Vung Tau | | | |