JIS Standard Flange
April 19, 2021
Specialized JIS Standard Flange Manufacturer, JIS Flange Weight Chart, Pressure Rating, Dimensions
Marcel Piping Projects Supply PVT LTD is well-known manufacturers of JIS Standard Flanges in India. "JIS" Stands for Japanese Industrial Standard and is published by the Japanese Standards Association (JSA) which is the equivalent of ANSI in the United States. They are created and updated by the Committee of the Japanese Industrial Standards (JISC). Like JSA to ANSI, the JISC is similar to the American Society of Mechanical Engineers (ASME).
A flange is a method of connecting valves, pipes, pumps or other system equipment to form a piping line. Flanges provide easy access for cleaning, maintenance, inspection or modification. There are many different standards flange being made. These flanges are designed to have standardized dimensions to allow easy interchangeability and functionality. ​Flange is made for welding or screw end. Flange connection are made by bolting together two flanges with a gasket in between to provide reliable sealing. Pipe flanges are made in different materials such as carbon steel, stainless steel or brass.
Different standard has its own table dimensions and it is not generally interchangeable. Example, ASME 150# will not match with a JIS 10K flange standard. These class pressures have different working pressure and temperature rating according to different material grade. ​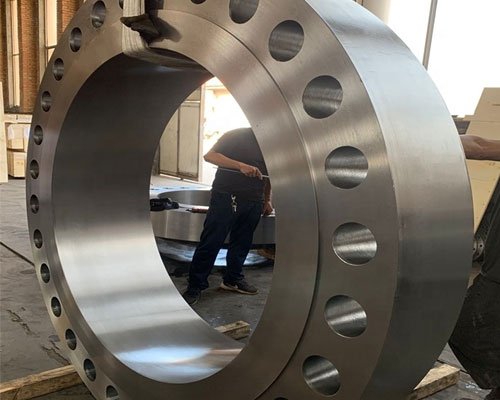 We Recognize as a Trusted Manufacturer and Stockist of JIS B2210 Flange, JIS B 2290 Flange, JIS B2239 Flange, JIS B 8210 Flange, JIS B2291 Flange, JIS F7806 Flange, Flange JIS-G3214, JIS Flange SS400, JIS 10k FF Flange, Flange JIS 20k, JIS 5k Flange, Flange JIS 16k, Flange JIS 25k, JIS 280k Flange, JIS 30k Flange Standard at Best Prices.
We are Leading Exporter and Supplier of JIS SOP Flange, JIS Counter Flange, JIS Flange Raised Face, JIS Hydraulic Flange, JIS Lap Joint Flange, JIS LWN Flange, JIS Weld Neck Flange, JIS Orifice Flange, JIS Slip On Flange, JIS Reducing Flange, JIS Threaded Flange, JIS Vacuum Flange in USA, UK, Qatar, Mexico, Nigeria, Saudi Arabia, Kuwait, Iran, Kazakhstan, Bahrain, Vietnam, Indonesia, Norway, Ghana, Colombia, Azerbaijan, Libya, India.
JIS Standard Flanges Standard Specifications
JIS Specification Chart
| | |
| --- | --- |
| Flange Size Range | 1/2″ (15 NB) to 48″ (1200NB) DN10~DN5000 |
| Flange Class / Pressure Rating | Class 150 LBS, 300 LBS, 400LBS, 600 LBS, 900 LBS, 1500 LBS, 2500 LBS |
| Pressure Calculation in JIS | 6Bar 10Bar 16Bar 25Bar 40Bar / PN6 PN10 PN16 PN25 PN40, PN64 |
| Flange Face Types | Flat Face Flange (FF), Raised Face Flange (RF), Ring Joint Flange (RTJ), Lap Joint Flange, Male and Female Flange (M&F), Large and Small Tongue-and-Groove Flange (T&G) |
| JIS Standard Cover | dimensions, tolerances, weight, temperature ratings & pressure ratings, marking, materials, testing |
| Japanese Industrial Standard (JIS) | Class Pressure: 5K, 10K, 16K, 20K, 30K, 40K, 63K |
| Custom Design | As per your drawing |
| Material Test Certificates (MTC) | As per EN 10204 3.2 and EN 10204 3.1, Test Certificates certifying NACE MR0175, NACE MR0103 |
| Test Certificates | 100% Radiography Test Report, EN 10204/3.1B, Raw Materials Certificate, Third Party Inspection Report, etc |
| Tests | Hydrostatic testing machine, Direct-reading Spectrograph, UI trasonic flaw detector, X-ray detector, Magnetic particle detector |
| Equipment / Machines | Press machine, Pushing Machine, Bending machine, Sand-blasting machine, electric bevelling machine, etc. |
| Coating | Anti-rust Paint, Oil Black Paint, Yellow Transparent, Zinc Plated, Cold and Hot Dip Galvanized |
| Origin | Indian / USA / Japan / West Europe / Korean |
JIS Standard Flanges Material Grades
JIS Standard Flange Materials
Stainless Steel JIS Standard Flange
ASTM/ASME A/SA182:- F304, F304L, F316, F316L, ASTM/ASME A/SA351:- CF3, CF3M, CF8, CF8M, DIN 1.4306, DIN 1.4301, DIN 1.4404, DIN 1.4401, DIN 1.4408, DIN 1.4308, DIN 1.4306, DIN 1.4409
Duplex JIS Standard Flanges
S31803 / S32205 A182:- Gr F51 / F52 / F53 / F54 / F55 / F57 / F59 / F60 / F61
Super Duplex JIS Standard Flanges
S32750 / S32760 A182:- Gr F51 / F52 / F53 / F54 / F55 / F57 / F59 / F60 / F61
Copper Nickel JIS Standard Flanges
ASTM / ASME SB 61 / 62 / 151 / 152, Copper Nickel 90/10 (C70600 ), Cupro Nickel 70/30 (C71500), UNS C71640
Titanium JIS Standard Flanges
ASTM B381 / ASME SB381:- Titanium Gr. 1, Titanium Gr. 2, Titanium Gr. 4, Titanium Gr. 5, Titanium Gr. 7
ASTM  R50250/GR.1 | R50400/GR.2 | R50550/GR.3 | R50700/GR.4 | GR.6 |R52400/GR.7 | R53400/GR.12 | R56320/GR.9 | R56400/GR.5
Copper JIS Standard Flanges
TP1, TP2, C10930, C11000, C11300, C11400, C11500, C11600, C12000, C12200, C12300, T1, T2, C10100, C10200, C10300, C10400, C10500, C10700, C10800, C10910, C10920, TU1, TU2, C12500, C14200, C14420, C14500, C14510, C14520, C14530, C17200, C19200, C21000, C23000, C26000, C27000, C27400, C28000, C33000, C33200, C37000, C44300, C44400, C44500, C60800, C63020, C68700, C70400, C70600, C70620, C71000, C71500, C71520, C71640, etc
Incoloy JIS Standard Flanges
ASTM B564 / ASME SB564:- Incoloy 800, 800H, 800HT (UNS N08800), 825 (UNS N08825), 925
Inconel JIS Standard Flanges
ASTM B564 / ASME SB564:- Inconel 600, 601, 625, 718, 783, 690, x750
Nickel JIS Standard Flanges
ASTM B564 / ASME SB564:- Nickel 200, Nickel 201, Nickel 205, Nickel 205LC
Hastelloy JIS Standard Flanges
ASTM B564 / ASME SB564:- Hastelloy C276 (UNS N10276), C22 (UNS N06022), C4, C2000, B2, B3, X
Monel JIS Standard Flanges
ASTM B564 / ASME SB564:- Monel 400 (UNS No. N04400), Monel 500 (UNS No. N05500)
Carbon Steel JIS Standard Flanges
ASTM/ASME A/SA105 A/SA105N and A/SA216-WCB, DIN 1.0460, DIN 1.0402, DIN 1.0619, Die Steel, ASTM A105 / ASME SA105, A105N, ASTM A350 LF2 / ASME SA350, CS High Yield ASTM A694 / A694 (F52, F56, F60, F65, F70, F80)
Alloy Steel JIS Standard Flanges
ASTM A182 / ASME SA182:- F5, F9, F11, F12, F22, F91
JIS Alloy 20 Flanges
ASTM B462 / ASME SB462:- Carpenter® 20 Alloy, Alloy 20Cb-3
JIS SMO 254 Flanges
ASTM A182 / ASME SA182:- SMO 254/6Mo, UNS S31254, DIN 1.4547
Aluminium JIS Standard Flanges
5052 /6061/ 6063 / 2017 / 7075 / etc.
Brass JIS Standard Flanges
3602 / 2604 / H59 / H62 / etc.
Other JIS Standard Flanges material
Tin bronze, Alumunum bronze, Lead bronze, Nimonic 75, Nimonic 80A, Nimonic 90, AISI 4140, AISI 4130, Mild Steel, Al6XN Flanges
Steel Pipe Flange Standards
Flange Standards and Dimensions
JIS Standard Flange Dimensions and Weight Chart
JIS Standard Flange Technical Drawings
Visit JIS B2220 Page For all techincal Details such as Flange Weight Chart, Pressure Rating, Dimensions. Click Here!
JIS Standard Flange Types
JIS Standard Flanges Price in India
Note: JIS Standard Flanges Prices are depended on Material Grades, Dimensions, Sizes, Type of Flange, and Order Quantity, etc. The prices mentioned on the website are for reference purposes only. To get market leading prices for JIS Standard Flanges contact us now.
JIS Standard Flange Industries and Applications
JIS Standard Flange Applications
Pumps, Valves, and vessels in manufacturing and food processing.
Pipe connections in industrial waterworks.
Heat exchangers and heating systems of all sizes.
Mining support.
Nuclear power systems.
Plumbing and mechanical systems.
Assemblies in the oil, gas, and petrochemical industries.
Fire protection systems.
JIS Standard Flanges Supply and Export Network
List of Cities and Countries
| | | | |
| --- | --- | --- | --- |
| Afghanistan | Algeria | Angola | Argentina |
| Australia | Austria | Azerbaijan | Bahrain |
| Bangladesh | Belarus | Belgium | Bhutan |
| Bolivia | Brazil | Bulgaria | Canada |
| Chile | China | Colombia | Costa Rica |
| Croatia | Czech Republic | Aberdeen | Abu Dhabi |
| Ahmedabad | Ahvaz | Al Jubail | Al Khobar |
| Algiers | Ankara | Atyrau | Bangkok |
| Bengaluru | Bhopal | Bogota | Brisbane |
| Busan | Cairo | Calgary | Caracas |
| Chandigarh | Chennai | Chiyoda | Coimbatore |
| Colombo | Courbevoie | | |
| | | | |
| --- | --- | --- | --- |
| Denmark | Ecuador | Egypt | Estonia |
| Finland | France | Gabon | Ghana |
| Greece | Hong Kong | Hungary | India |
| Indonesia | Iran | Iraq | Israel |
| Italy | Japan | Jordan | Dallas |
| Dammam | Doha | Dubai | Edmonton |
| Ernakulam | Faridabad | Geoje-si | Gimhae-si |
| Granada | Gurgaon | Hanoi | Haryana |
| Ho Chi Minh City | Hong Kong | Houston | Howrah |
| Hyderabad | Indore | Istanbul | Jakarta |
| Jeddah | | | |
| | | | |
| --- | --- | --- | --- |
| Kazakhstan | Kenya | Kuwait | Lebanon |
| Libya | Lithuania | Malaysia | Mexico |
| Mongolia | Morocco | Netherlands | New Zealand |
| Nigeria | Norway | Oman | Pakistan |
| Peru | Philippines | Poland | Portugal |
| Qatar | Romania | Russia | Karachi |
| Kolkata | Kuala Lumpur | Kuwait City | La Victoria |
| Lagos | Lahore | London | Los Angeles |
| Ludhiana | Madrid | Manama | Melbourne |
| Mexico City | Milan | Montreal | Moscow |
| Mumbai | Muscat | Navi Mumbai | New Delhi |
| New York | Noida | Perth | Petaling Jaya |
| Pimpri-Chinchwad | Port-of-Spain | Pune | Rajkot |
| Rio de Janeiro | Riyadh | | |
| | | | |
| --- | --- | --- | --- |
| Saudi Arabia | Serbia | Singapore | Slovakia |
| South Africa | South Korea | Spain | Sri Lanka |
| Sweden | Switzerland | Taiwan | Thailand |
| Trinidad & Tobago | Tunisia | Turkey | Ukraine |
| United Arab Emirates (UAE) | United Kingdom (UK) | United States (US) | Venezuela |
| Vietnam | Yemen | Santiago | Secunderabad |
| Seoul | Sharjah | Singapore | Surat |
| Sydney | Tehran | Thane | Thiruvananthapuram |
| Toronto | Ulsan | Vadodara | Visakhapatnam |
| Vung Tau | | | |